Group River Expeditions
WhiteWater Nepal Pvt. Ltd. can arrange personalized river trips by raft, kayak, catamaran or the Bublick for any group of experienced rafters. These expeditions are not commercially run: they exist only when requested. Which means you have complete freedom to choose what you want to do – and where.
Whatever your dream of adventure, we'll do our best to bring it to life. At your request, we can arrange to search out first descents, try new types of river craft and plan extended river trips in Nepal's remote wilderness. There is nothing we enjoy more than pushing life and the river to the limit, but always with the greatest concern for safety and the highest respect to the river.
Below are examples of trips we can arrange for your group:

Arun River

This trip begins with a 3-day trek through remote villages in Eastern Nepal – an area few visitors ever see – camping out in lush forests with views of the snowcapped Himalayan peaks. On the river, the powerful current drives your raft or kayak through 6 days of great white water action; at night you relax on fantastic beaches in dramatic valleys.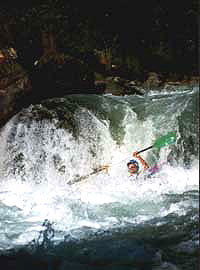 In our opinion, the combination of trekking, spectacular scenery, great rapids and remote location make the Arun the best river to run in Nepal. WhiteWater Nepal can also offer the Upper Arun River exclusively with the unique Bublick and double catamaran. We are proud to say that we are the company to run trips on the most difficult and intense rapids in Nepal.
Our Latest Expeditions:

Dudh Kosi River:
Sport River Expedition on Dudh Kosi River: Our company together with Russian river sportsmen did succesful river expedition on Dudh Kosi River in October - November 2007. For up-to-date news on expedition, please, have a look at page of the expedition following the link: Dudhkosi Expedition

Arun River:
Sport River Expedition on Arun River (Upper Arun Gorge): Our company organized whitewater expedition on Arun River in April 2008. The expedition was run by Bublicks and kayak. The picures from the Expedition are at our photo gallery : WhiteWater Nepal Photo Gallery
Our Next Expedition:
Dudh Kosi Rver Expedition is planned for autumn 2011.